I decided at the age of 34 to get braces. This was to correct the following:
Mildly long facial growth pattern
Moderately convex profile
Mildly short upper jaw
Mildly short lower jaw
Mild upper jaw constriction
Overjet 3mm Overbite 2mm
Mild upper arch crowding
Mild lower arch crowding
Lower dental midline to the right of facial midline by 2mm
I decided to get lingual braces (iBraces) top and bottom. Although my top teeth look fine, I detest the horrid overlap in my bottom front teeth, so I usually don't smile very big so as to hide my bottom teeth. The estimated treatment time is 24-30 months. Here is a photo I took at the beginning of my treatment: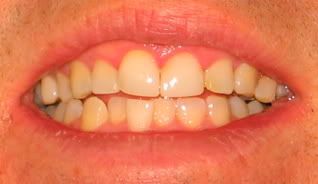 Jan 29, 2008
I realize that these photos aren't terribly exciting due to the lingual braces and the lack of pretty and varied colors!
6 weeks later, I got the lower brackets and wire installed. By then, my teeth looked like this: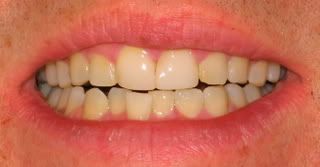 March 11, 2008
Now I am 5 months into treatment. I went in today and had some repairs done (two brackets off) and had the lower wire reinstalled (had to take it off myself due to being out of town when the brakets came off.) Today they also installed my third (and final!) top wire. I was somewhat surprised that I only have 3 wires for the top, but I guess the top wasn't horrible to begin with. I have been somewhat appaled at the shifting that has occured on my top two front teeth. Before we started this, they were pretty straight and aligned, but now they're worse than before! Someone tell me this is normal. Anyway, the bottom teeth are moving quite slowly, not to mention they are running into each other a lot in the effort to get out of the way, so I'm sure the majority of the treatment time will be dedicated to fixing that mess.
So here is today: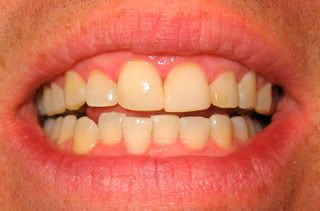 July 7, 2008
Frankly I don't see a whole heck of a lot of difference (other than my two front teeth which are now crooked!) but I know it is sometimes easier for others to look and see improvements. So if you see anything good let me know!
Oh, I also figured out a better way to take these photos. Before I was just blindly firing the camera at my face and hoping they came out ok. But today I figured that if I stand in front of a mirror, I can see the screen on the back of the camera in order to aim it better. This allowed me to get some decent photos of my top and bottom arches: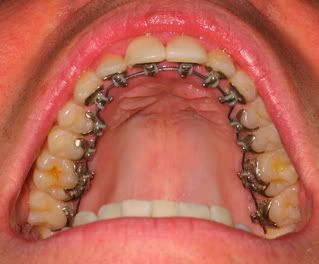 Top 7/7/08
Bottom 7/7/08
I wish I had some of these from the start but I couldn't get them to come out. Oh well! Look at the fancy battleship grey ligs? Aren't you all jealous with your fancy pinks and blues?
And yes, the midline is appalling... they said they won't start to fix that until the teeth are pretty straight. More updates to come as time rolls on...
_________________
I had my top arch wired for 3 years, 9 months, 3 weeks and 3 days with iBraces
I had my bottom arch wired for 3 years, 8 months, 1 week, and 4 days with iBraces
with Clarity conventional brackets top and bottom