Hello all
(Mods apologies if this is in the wrong section- please feel free to move it if necessary!)
Having been in braces for just over a year (May 23rd, 2011) my ortho has decided that the time has come for the de-bracing, this coming Thursday. It will be a completely new ortho that I see for the de-bracing as the one who I have been with for my whole treatment has recently moved practices.
I'd really like your opinions on whether or not to accept this result or argue it- please could you take a quick look at my pictures and let me know honestly what you think?
I've had a word with my ortho (the one who has moved) in the past over things I've not been happy with but they don't seem to have been fixed- maybe I am being unreasonable.
My problem is the alignment of my bottom teeth, and the fact that my top tooth appears twisted- it appears to be pointing inwards and is further forward than my other top tooth.
He did try and fix the top tooth, but brought it waaay forward, so then pushed it back into its previous spot and sort of left it. I'm trying to get the best result possible for my braces to allow for any shifting when they come off. He didn't seem to think there was a problem with my lower teeth, or I didn't explain it to him well enough or something. He kind of brushed it all aside and said that a power chain would sort them out, which makes me feel like I am making a bigger deal of this than it should be. I feel like an idiot, so I want your thoughts!
It would be so helpful to me as I'm trying to decide if I am being unreasonable! I know that I may see things that others don't, and I may well be being too nitpicky, but I would really appreciate an honest response from unbiased people
Then if I do find I am being nitpicky will just shut up and accept the finished result with a de-braced smile, haha
I do think these pictures are surprisingly more flattering than they appear to me in real life (just please don't mind the lighting on those last pictures!

), but again that could just be me seeing all the faults magnified!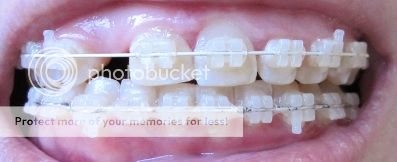 Closed bite (for closed bite pictures please bear in mind I've still got a ceramic lump on my molar! I'm told it will be removed along with the braces
)
Open bite
Closed bite
Open bite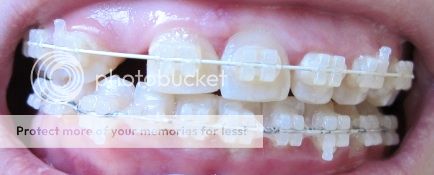 Closed bite
Open bite
Closed bite
Closed bite

Closed bite
Would you accept the above as a finished result?
I would really appreciate any responses
Thank you!!