Photos of Kevin in Michigan, USA
---
Kevin is 45, a husband and father of 2 teen boys, 18 and 14. Kevin decided to get his braces to correct bite problems, crowding and in order to keep them for the long haul.
Kevin enjoys coffee (and he roasts his own), kayaking (flatwater and surf), snorkeling, scuba diving, camping, hiking, hunting, rock climbing, and geocaching.
Upper braces only, 2 days after banding (2/2003)
Upper braces after two months (4/2003)
After 4-1/2 months of treatment, the bottom teeth are bracketed and wired.
One month later, Kevin's bottom teeth are starting to look better.
Dec. 2003 -- Way to go, Kevin! Those choppers are looking terrific!
Kevin is done!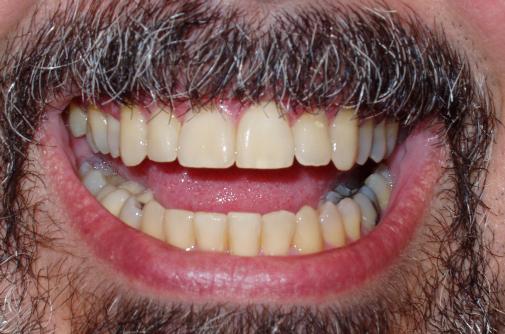 It has been a while since Kevin submitted a photo, and now he is done! His teeth look terrific!
Here is what Kevin had to say about the conclusion of his treatment:
"At the beginning we figured we'd be finished by September of 2004. However I have long roots (my ortho says that's a good thing!) and some teeth required inward torquing to get them to where they needed to be at the finish and this was taking longer than expected.
"Remember my top braces went on first and the bottom ones 4 months later. Removal of the top braces occurred in March 2005 but in order to keep applying the torque to the lateral incisor which took MONTHS to get into final position we decided on an Invisalign type of retainer rather than a Hawley. The Hawley would not have been able to apply this type of torque. In fact the torque was so high that I was in the largest arch wire that he had and the wire kept shattering the clear ceramic brackets. So much so that we ended up going with metal brackets on 3 teeth (in the photos right of midline) left incisor, left lateral incisor and canine. In order to get the steel to stick and stay bonded he had to untorque the wire each time the switch from ceramic to metal was made. I was visiting the ortho every two weeks at this point and the treatment took an additional 6 weeks. This lateral incisor was a SLOOOOW moving tooth!
"Meanwhile the lowers were posing problems of their own. The last three months were in power chains to keep things in place in preparation for finish, but in the last weeks they had a mind of their own and required re-alignment into the arch for a good finish.
"The decision to go with the invisalign type of retainer (editor's note: usually this is called an Essix Retainer) had more to do with the undesirability of a bonded wire down there than anything, but I have to say these retainers are very comfortable and fit like a fine glove.
"I'm wearing them 18 to 20 hours a day and I will say that on a weekend when I'm doing something and forget to put the top back in right away after eating and brushing I can tell that the retainer is pulling the teeth back into line. WEAR YOUR RETAINERS!
"I'm now on a 4-6 week checkup schedule to check the fit of the retainers. I'll be requesting a little more cosmetic leveling of the bottom teeth on my next visit, but since this involves grinding it must be done a little at a time in order to allow the enamel to regenerate over the ground down area. As you can see some shaping has been performed already when I had my removal visits. (ed: The reshaping you've already had done looks great, Kevin!)
"It is so wonderful to not have things get stuck when I eat now and to be able to floss without threaders!
Best regards, Kevin."